Description
Ref: PSS 16/12 South East & East Anglia (Not ULEZ)
Christmas Festival Stage Package
Available from  November to December 2022, below are our website list prices, we are offering a 10% off each, (Event Stage,  Public Address System, & Stage Lighting System) if order as package. If you place your booking before 30th September 2022.
10% deposit will secure your booking, full refundable should you need to cancel (please read T's & C's).
Full Festival Package complete with 16ft x 12ft event stage, Vocal Speech PA (2K System Package), 6 Kwatts Stage Lighting System, coloured trussing fairy lights, & snow machine.
Performance Stage suitable for dancing and acrobatics 
The price is for 'set up', dismantle, delivery and collection any in where the South East and East Anglia. Rates differ for London ULMZ.
Price also includes the following documentation, public liability insurance, risk assessment, structural information and method statement.
Total performance area 16ft wide x 12ft depth stage height 2ft, sloped roof.
Setup uses (3 x 8ft x 4ft)  (4 x 6ft x 4ft) (1 x 4ft x 4ft) Steel deck sections, bolted together.
The OPTI Trilite 200 aluminium trussing makes up the canopy structure, upon which the PVC sheets are attached using bungee ties.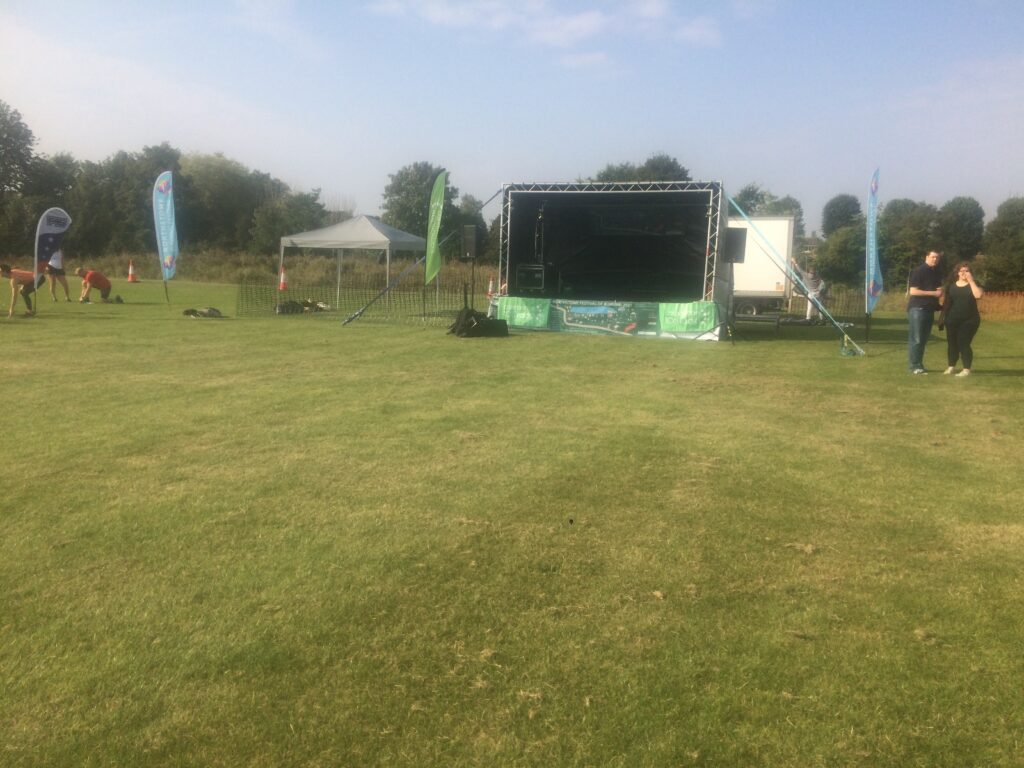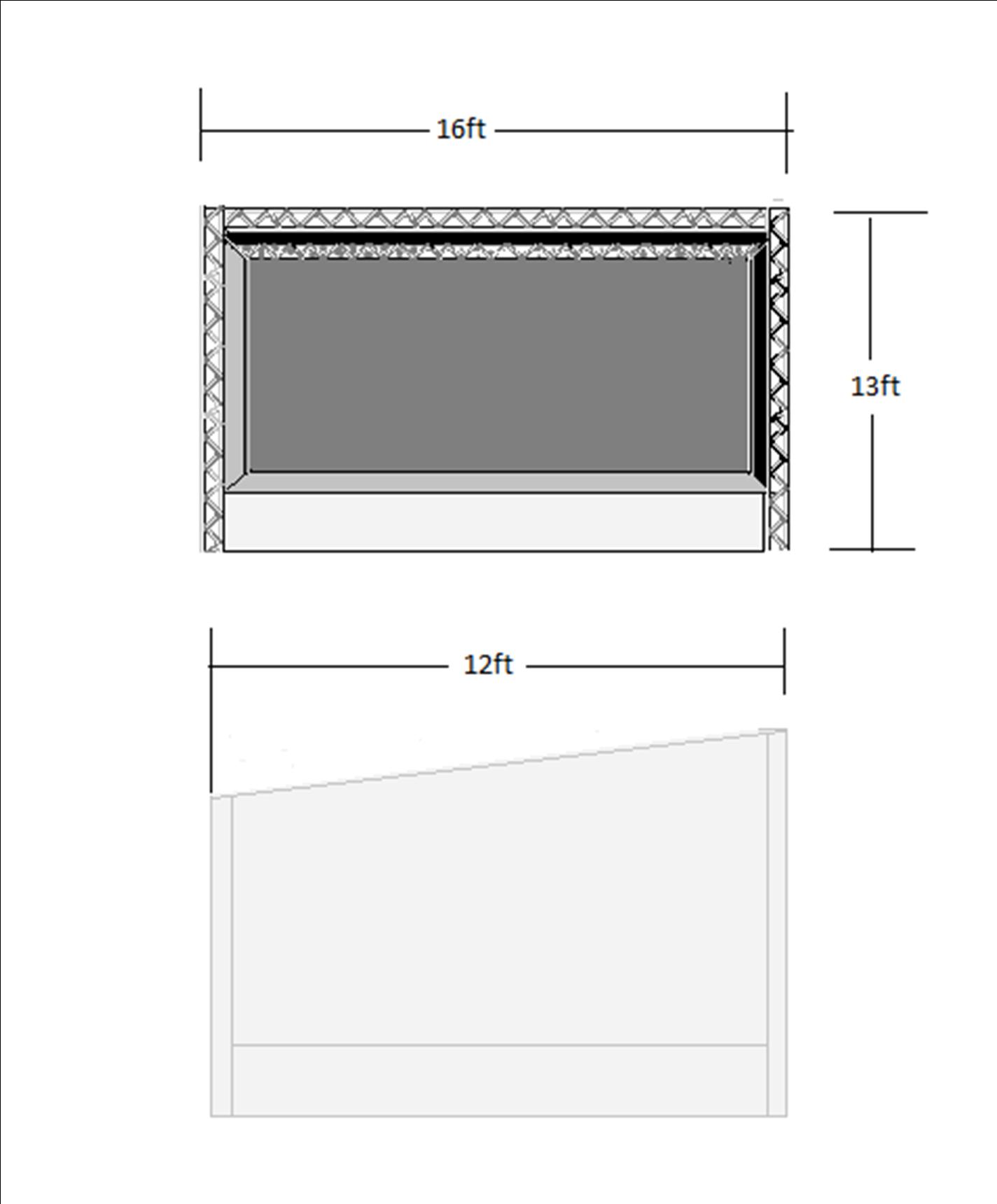 PSS 16/12 Stage Set Up
Unit Price
Total Price
Staging Component's
3
Steeldeck Section  6ft x 4ft
32.00
96.00
4
Steeldeck Section  8ft x 4ft
30.00
120.00
1
Steeldeck Section  4ft x 4ft
24.00
24.00
12
Steel Flange Legs 2ft
1.00
12.00
12
Steel Adjustable Feet
1.05
12.60
4
Steel Legs 1ft
0.35
1.40
Canopy  29′ x 13′ Component's.
4
OPTI Trilite 200 trussing 90* Corners
3.00
12.00
2
OPTI Trilite 200 trussing 2.0M Top Brace Sections
10.00
20.00
12
OPTI Trilite 200 trussing 1M Legs
8.00
96.00
2
OPTI Trilite 200 trussing 3.0M Side Brace Sections
12.00
24.00
2
OPTI Trilite 200 trussing 2.9M Side Brace Sections
11.00
22.00
0
OPTI Trilite 200 trussing 3M Cross Sections
12.00
0.00
6
OPTI Trilite 200 trussing 2M Cross Sections
10.00
60.00
20
Cross Clamps
1.00
20.00
8
Swivle Clamps
1.00
8.00
4
Base Plates
3.00
12.00
1
Top Sheet 30 x 16
20.00
192
20.00
2
Side Sheet 16 x 12
15.00
144
30.00
2
Back Sheet 16 x 12
15.00
192
30.00
Set up Labour Charge  BECTU (Rigger Rate Per Hour)
42.50
12
510.00
Dismantle Labour Charge BECTU (Rigger Rate Per Hour)
42.50
10
425.00
Unit Cost
1555.00
Vat +20%
0.20
311.00
PSS 20/14 Hire Rate
1866.00
Delivery Charge
BECTU Driver  Rate per hour
33.11
2
66.22
Fuel Rate
50.00
Collectiong Charge
BECTU Driver  Rate per hour
33.11
2
66.22
Fuel Rate
50.00
Total
2048.44
Booking Discount
Less
0.00
SALE PRICE
2048.44
The general logistic of installing our event stages is to install on the day before the start day of the event, with the dismantle taking place on the day after the finish day.
You would be advised to contact our sales team if we can not work is way.
The valence and boarder is made polyester , Silver/Black,.
Board surface Matt Black non slip finish.
Vocal Speech PA (2K System Package)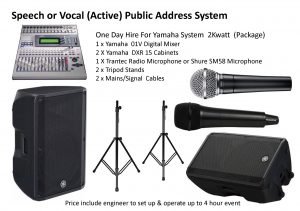 The above is the total cost for delivery, set up, the system, dismantle and collection.
The above price has not included any engineer/s to operate soundcheck and mix any artist or bands.
Additional audio and lighting can be added to this system, please contact us  if you require further information, with regards system add on's and prices.
6 Kwatts  Stage Lighting System
The above price has not included any engineer/s to light plot or operate during the live performance.
Orange Audio Terms & Condition
DEFFINITIONS
a) The "Owner" shall be Orange Audio, their successors, assigns or
personal representatives.
b) The "Hirer" or "Purchaser" shall be the company, firm, person,
Corporation or public authority, taking the Owners products,
services and equipment on sale or hire & includes their
successors, assigns or  personal representatives.
c) "Products or Services" covers all classes of products and services
which the Owners agrees to sell to the purchaser.
d) "Equipment" covers all classes of equipment, cables & accessories
which the Owners agrees to hire to the Hirer.                        
e) An "order" is a verbal or written request by the Hire to  the Owner
for the equipment to be provided.
f) The "Hire or "Sale" or  "Service" contract is an agreement
between the Owner & the  Hirer" or "Purchaser" which confirms
receipt of the Hirer's or Purchaser's order, lists the products,
equipment and services to be provided & incorporates any special
conditions between the Hirer or  Purchaser & the Owner.
ACCEPTANCE  OF AGREEMENT/CONTRACT
An agreement/contract for sale, or for hire is deems to be accepted on receipt of full payment, or the minimum required deposit.
Acceptance of  an agreement/contract will only proceed once any payment is cleared the "Owners" account,  or cash office, handed to
representatives, their successors, assigns or person.
The agreement/contract will schedule all the details relating to the sale/hire/services to be supplied.
DEPOSITS & PAYMENTS
The agreement/contract will state the minimum deposit required, and the due date of full payment, or balance.
Payment  will be due on a stated date, and the Hirer or Purchaser to meet the terms & conditions of the agreement/contract should make such payment/s on the stated date. Where such payments are not paid in time on the stated date, the owner reserves the right retract from any discount/s which relate to the agreement/contract, and the full invoice value of the agreement/contract will become due.
Payments later than one calendar month, and thereafter, the owner reserves the right to charge interest on any outstanding invoice/s not paid.
ACCEPTANCE OF CONDITIONS
The completion of the Hire/Sales/Installation Agreement by signature of  the Hirer shall imply acceptance of all the conditions herein,
unless otherwise agreed & specified in the Hire/Sales/Service  agreement/contract  by the Owner & the Hirer or Purchaser.
CANCELLATION
Cancellation of products or services will require written notice to cancel any supply or delivery of products or services.
Notice should be given as soon as the hirer, purchase, or any person/s or agent assigned by the hirer, purchase becomes aware that the products or services are not required.
Where written notice of cancellation is (letter, email or text) is received 10 working days before the product/s or service/s are due to  be supplied or delivered, a full refund of money received as payment/s or deposit/s will be refunded by the way of a company cheque to the hirer or purchase
Where written notice of cancellation is (letter, email or text) is less than 10 working days any payment or deposit will be retained by the owner.
Where no written notice of cancellation is received, the owner requires any invoice/s forwarded to hirer, purchase to be paid in full.
CONDITION TO SALES
All products supplied remain the property of the "Owner" until full payment is received.
CONDITION TO HIRERS DUTY OF RETURN
The Hirer is absolutely responsible for the safe keeping of equipment during the period of hire & for its return to the Owner at the end of the hire. If the Hirer fails to return equipment  for whatever  reason, whether as a result of theft, loss, destruction or otherwise, whether  due to negligence on  the part of the Hirer or his servants or not, the Hirer shall be liable  to the Owner:
a) for the cost of replacement of the equipment together with all costs arising there from.
b) for the Owner's hire charges until the return of the equipment or payment in full of the  costs under the clause a) hereof.
EQUIPMENT FAILURE OR BREAKDOWN
Breakdowns or defects in the product, equipment or service occurring as a result of ordinary usage or fair wear and tear will at the Owner's options either be repaired at the Owner's expense & with the least possible delay, or alternatively the Owner will replace equipment, & the Hirer or purchaser in such event shall not be charged until repair or replacement occurs.
EXCLUSION OF LIABILITY
Except as provided above the Owner will not, to the extent permitted by law, be under any liability whatever, however arising to the Hirer or Purchaser for any consequences of equipment  failure, malfunction or defect. In particular the Owner will not be liable for consequential or pure economic loss in any event.
COMPLIANCE WITH THE LAW
The Hirer or Purchaser shall be responsible for complying with all relevant laws, bylaws & regulations applicable & Incidental to the use of the products and equipment.
INSURANCE
The Hirer shall be responsible for insuring the equipment fully & properly against all risks  devolving on him either by law or under this contract & these conditions.
INDEMNITY
The Hire or Purchaser shall indemnify the Owner in respect of all claims for injury, loss or damage whatsoever caused by or in connection with the sale or hiring or use of the equipment by the Purchaser or Hirer.
FORCE MAJEURE
The Owner shall not be under any liability for any consequences of delay of failure in carrying out the contract by Force Majeure or circumstances outside the direct control of the Owner.